Vases Temple Jars Ginger Jars
Showing all 2 results
Vases Oriental Ceramic Temple Jars Ginger Jars
Sale!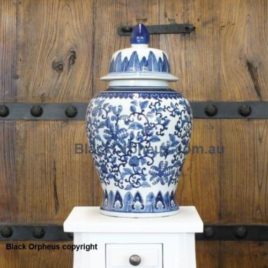 Blue White Lotus Temple Jar 46cm
Lotus Temple Jar Blue & White 46cm
A unique piece, that is at home in a modern or traditional Decor. Lotus Temple Jars are a design classic, shapely and decorative in all their blue & white glory. An excellent quality Product, we stand by what we sell, in our showroom or online, buy with confidence we are always here to assist with any inquiry for more info please contact us 03 95631245 
http://blackorpheus.com.au/contact-us/
Tuesday to Friday 10.30 Am to 5.30PM ASET Saturday 10.30 to 5 PM Closed Sunday, Monday Colour: Blue and White Material: Enameled Ceramic Porcelain Item size: Height with lid 46cm, Height without lid 32cm, Base 18cm, Widest Section 28cm.
$

169.00
Add to cart
Sale!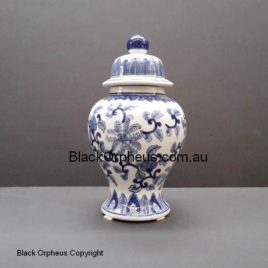 Lotus Temple Jar 30cm Blue White
Lotus Temple Jar Blue & White 30cm
A unique piece that is at home in a modern or  traditional Decor.  Lotus Temple Jar  are a design classic,  shapely and decorative in all their blue & white glory. An excellent  quality Product we stand by what we sell in our showroom or online buy with confidence we are always here to assist with any inquiry for more info please contact us  03 95631245  
http://blackorpheus.com.au/contact-us/
Tuesday to Friday  10.30 Am to 5.30PM ASET Saturday 10.30 to 5 PM    Closed  Sunday, Monday Colour: Blue and White Material: Enameled Ceramic Porcelain Item size: Height with lid 30cm, Depth and width 19cm at the widest part. Shop with Confidence all through
PayPal 

 
secure site
or go to my
eBa

y
store
$

99.00
Add to cart