EGYPTIAN
Showing all 7 results
Sale!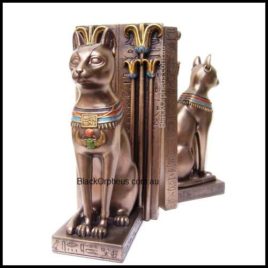 Egyptian Bookends Bastet R017 25cm
Egyptian Bookends Bastet R-017 25cm
Egyptian Bookends Bastet R017 25cm Size: H25xW11xD13cm  Bronze Cold-Cast Coated Statue with Hand Painted Detailing.  Outstanding Quality with Fine Attention to Detail. Comes in its own box. Tailor-made packaging of each item ensures the safe delivery to your door.
 Cats
(
Felis silvestris catus
), known in Ancient Egypt as "Mau", were considered sacred in ancient Egyptian society. Based on recent DNA comparisons of living species, it has been estimated that cats were first domesticated from the Middle Eastern subspecies of the wildcat about 10,000 years ago in the Fertile Crescent.
Thousands of years later, the peoples in what would later be Upper and Lower Egypt had a religion centering on the worship of animals, including cats. Praised for controlling vermin and its ability to kill snakes such as cobras, the domesticated cat became a symbol of grace and poise.
$

199.00
Add to cart