Prints
Showing all 4 results
Sale!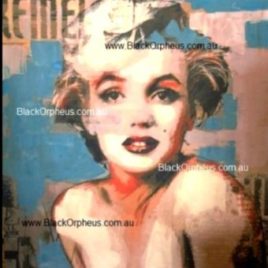 Marilyn Monroe Photo Art Print Canvas Aqua
Marilyn Monroe Photo Art Print Canvas Aqua
140×90 cm
$395 Iconic Image of Marilyn this Magnificent Canvas is one of the best examples of Marilyn Monroe in Art,  canvas Photo Paint Print on canvas is a masterpiece, no doubt will become a collectors item, Looks Great in Any Interior decor whether you place 1 canvas in the middle above your buffet, sofa table or make a real Statement place 3 frames in line, for a magnificent effect Once described as 'the only blonde in the world', Marilyn Monroe's impact in the course of her brief film career was so great that her image remains one of the most potent and poignant of our time, combining waif like innocence with glittering eroticism, worldliness with profound vulnerability. Much photographed during her lifetime, Marilyn has since been a constant source of inspiration to artists, from Andy Warhol and noted fine artists to the graphic studios who mass-produced greeting cards bearing her likeness. Some see her as the public saw her – sensual, half-open mouth, dreaming eyes, heavy, always just-covered breasts. To others, she is the subject of fantasy – bizarre, erotic, expressionistic – an emblem of pure sex, or the embodiment of the wholesome American Dream. It is the work of this artist that is represented here from around the world, a true testament to her global impact. This portrays exercise artistic license to the full, but in which there is little that does not connect at some point with the original model in all her fascination, a unique and universal fascination which, forty-three years after her death, shows no sign of diminishing.
$

795.00
Add to cart