ART NOUVEAU
Showing all 4 results
Sale!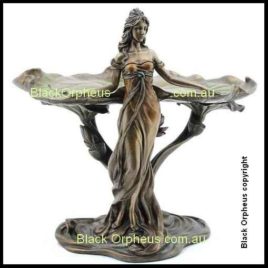 Art Nouveau Lady Lotus Leaf N312 23cm
Art Nouveau Lady Lotus Leaf N312 23cm Made of very strong cold cast Acrylic Resin coated in metalic Bronze with  the Finest finish to Minute Detail Bronze Coated Tray with Hand Painted Detailing. Outstanding Quality with Fine Attention to Detail. Comes in its own box. Well packaged for postage. SIZE: H.8xW.26xD.19.cm.
Art Nouveau
is considered a "total" art style, embracing architecture, graphic art, interior design, and most of the decorative arts including jewellery, furniture, textiles, household silver and other utensils and lighting, as well as the fine arts. According to the philosophy of the style, art should be a way of life. For many well-off Europeans, it was possible to live in an art nouveau-inspired house with art nouveau furniture, silverware, fabrics, ceramics including tableware, jewellery, cigarette cases, etc. Artists desired to combine the fine arts and applied arts, even for utilitarian objects.
Although Art Nouveau was replaced by 20th-century Modernist styles,
it is now considered as an important transition between the eclectic historic revival styles of the 19th century and Modernism.
$

125.00
Add to cart