Archangel Gabriel Pewter Figurine
Archangel Gabriel Bronze Figurine Messenger of God H31 x W25 x D14 cm Quality Resin epoxy, Bronz plated Fantastic fine detail, own tailord box 
Size H31 x W25 x D14 cm
Material High Quality  Cold Cast Resin epoxy, Bronz or Pewter plated with Fantastic attention to fine detail , comes in its own tailord box for safe delivery
Related products
Sale!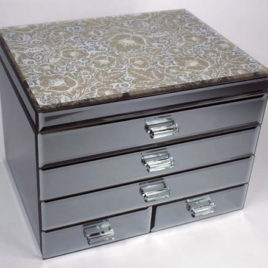 Mirrored JEWELLERY BOX Golden Glitzy SUPER JUMBO
Jewellery Box Golden Glitzy Super Jumbo
Jewellery Box Golden Glitzy Super Jumbo Mirrored all over, Plain Mirrored Front, sides, Golden Glitzy Floral Champagne Gold Mirror Top, 4 Drawers and Lift up Top.Black Felt Inner Lining Comes in its own box. Jewellery Box Glitzy Super Jumbo SIZE H.22 X W.30 X D.24cm. Beautifully made Blemish free Mirror, scratch free, no chinks...the inside Felt Lining is superbly made There are many copies of this Golden Glitzy Jewelry Box on the market (Internet) the finish is below standard yet they charge more than the Original ... They are popular ... so China just copies... Don't be Fooled . Shop with us with Confidence all through
PayPal
for Best Service and Best Price on the Real Original Item, 22 years in Business. If you are not Happy :-) we refund, just send it back You can call us 03 95631245 Tuesday to Saturday 10.30am to 5.30 pm, No Electronic Switchboard :-) Contact us
http://blackorpheus.com.au/contact-us/
We ship world wide at the most competitive rates, we do not add a handling fee.
$

220.00
Add to cart